R2 EPBT x EnjoyMyInSec Spectrum PBT keycaps set
There are 451 people on the waiting list, click the button below to join! We will notify you by email when the product available
or Sign In To Check Status
Wait list is just a glorified notification system! You are position #current_position on the waiting list. Keep an eye on your inbox, we will send you an email when the product can be purchased.
Congratulations! You are now on the waiting list, please check your inbox for our confirmation email!
Congratulations! You are now on the waiting list, please check your inbox for our confirmation email!
Group buy date: To be updated

Hi everyone, I sincerely hope that everyone is doing great and that you're all safe at home!  



It's already been one year since my first group buy started today so, I think it's a good opportunity to make another one.

Let me introduce you to my new set being EnjoyPBT Spectrum :  https://enjoymy.gallery/spectrum.html
As you can all see, this set is a mix of white alphas with CMYK modifiers. This idea came from my love for from OG keysets + CMYK Add-on, something that you guys can recreate, this set is definetly a tribute to that iconic combination:

On top of that, that set is meant to be very minimalistic and cover few layouts but that can change depending of the demand.

The kits are the following:

The base kit offers great compatibility by covering the standard ANSI layout, Tsangan, HHKB, and WKL.

You can notice that the Additive synthesis kit is meant to provide the "OG CMYK" experience since you can have white modifiers for the rows: 1, 2 and 3.


Speaking of the colors, color matching won't be an issue because these colors already exist, I chose them from stock GMK colors but this set will actually be Dyesub PBT and not Doubleshot ABS :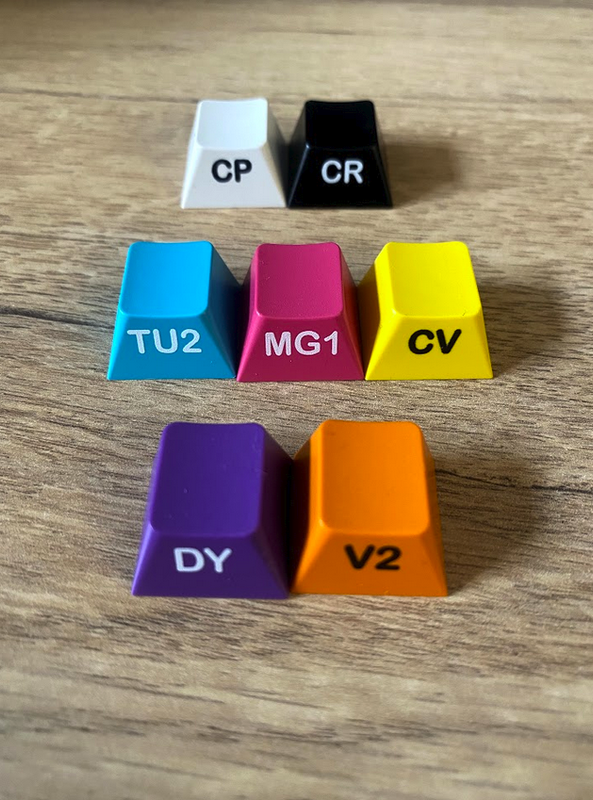 Let me now show you more renders on how this beauty looks :
*Note that the prices can change depending of the changes I'll make on the kits.

I sincerely hope that you guys like the set and the approach behind it. I'm waiting for your feedback on what I should potentially change and I'll make those changes accordingly to the demand. 



If you want to be updated about the project on top of the GeekHack thread :


I would like to thank all the people that supported me through that project, because without them, that wouldn't be possible: Biip, Scaevola, Putti, Otanishock, SummitCables, Oblotzki, CandyKeys and Kbdfans.

Thanks everyone, and I hope that you'll trust me again for running this new group buy.